Leading the Charge - Our story
Background
Eco Charger's founders Fred and Wendy Chugg hail from a North Devon farming family, cultivating their land since the C15th. Embracing inevitable pressures on agriculture, the family diversified in the 1990's – the result being by 2009, they found themselves running one of the UK's first and largest Quad Bike experiences.
A natural entrepreneur and innovator, Fred discovered that the Quad Bike side of the business offered him a valuable insight into the market potential for these unique vehicles, both in terms of working with the available technology, as well as gaining extensive practical awareness studying how Quads performed across a wide range of terrains, weather conditions and demanding tasks.
Enterprise & innovation
This invaluable experience convinced Fred to explore the concept of developing an electric powered ATV initially to use in his own Quad Park - available petrol driven Quads being unsuitable for both the local natural and agricultural environments –polluting, noisy, expensive to run and maintain.
Green Roots
This nascent interest in electric power harmonised with the family's desire to run a 'Greener' farm experience and complemented their strategic move to sourcing their energy requirements through Wind and Solar PV technology. Their home – 'Keypitts Farm' is often referenced as an exemplar of 'best practice' environmental sustainability and 'clean' energy generation in the agricultural sector.
Early days
Initially the development team led by Fred experimented with adapting and converting existing petrol quads.
Valuable lessons were learnt, but it became obvious that to work successfully, it would be necessary to design and build a completely new vehicle format that would be robust enough to fulfil a wide range of tasks.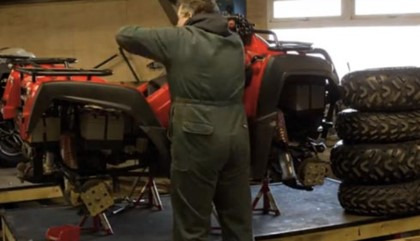 Moving forward - growth & development
The growing ranges of vehicles became naturally positioned in the marketplace as high standard, robust working vehicles. Supplier sourcing was upgraded to select only the best components - predominately from UK companies. The goal to build vehicles to exacting engineering specifications rather than to a unit cost.
The current range of 5 vehicles are now designed to meet every type of work challenge and budget constraints.
The environmental advantages of electric power – zero emissions, reduced noise and recharging capabilities being enshrined as key drivers.
Eco Charger will continue 'Leading the Charge' by having the most powerful range of electric ATVs in the market, and keeping ahead of the curve with constant product testing in a variety of rugged and challenging conditions across the globe. Supported by a network of passionate dealers, who are committed to our global success.